Michael Hunt
Managing Director
Dr. Michael Hunt, Managing Director of the Innsbrook Institute, has a PhD in Music Composition from Washington University and a Bachelor's degree in Music Theory from the Saint Louis Institute of Music.  He has served as Executive Director of the St. Louis Artists' Guild and the Fine Arts Society of Indianapolis (a not-for-profit that provided classical music radio programming on WICR, the radio station of the University of Indianapolis).  He was Director of National Education Programs for the Oasis Institute and served for nine years at the Missouri Arts Council.  Dr. Hunt was Composer in Residence at Fontbonne University (also for nine years).  His music has been performed around the world by such ensembles as the Los Angles Philharmonic, the St. Louis Symphony, the Bremerton Symphony, the Tucson Philharmonic, and at festivals in Ireland, Hong Kong, and Tasmania.  During a sabbatical year from Fontbonne University, he spent a year as Senior Visiting Fulbright Scholar at Trinity College in Dublin, Ireland.
---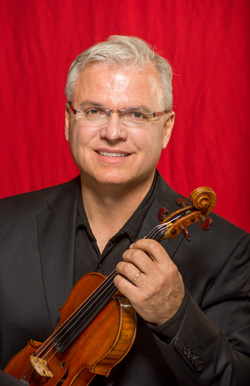 David Halen
Artistic Director
Concertmaster of the Saint Louis Symphony for twenty three years, and the  Aspen Music Festival for the past thirteen, David Halen is a frequent soloist around the world. In 2012, he added the appointment of professor of violin at the University of Michigan in Ann Arbor in addition to being Visiting Artist at the Robert McDuffie Center for Strings in Georgia. At 19, he became the youngest recipient ever of a Fulbright Scholarship for study in Germany. Prior to Saint Louis he served as assistant concertmaster of the Houston Symphony.  Mr. Halen is the founding artistic director of the Innsbrook Institute and also artistic director of Boonville Missouri River Festival of the Arts.
---
Haerim Elizabeth Lee
Assistant to the Artistic Director
Originally from Deajeon, South Korea, Haerim Elizabeth Lee moved to America when she was eight years old, and made her solo debut with orchestra at the age of ten.  Lee has most recently been awarded the bronze medal at the Fischoff Chamber Music Competition of 2014 as a member of the Evita Quartet.
Lee has a passion for exploring new works and has premiered new compositions and worked closely with composers. She has worked with Thomas Adès and will be performing the Canadian premier of Bright Sheng's piano quintet this summer at Banff Centre. She also has a deep-rooted love for collaboration among different art forms, including collaborations with the Boston Architecture School and with dancers from the University of North Carolina School of the Arts. Her upcoming projects include collaborations with Korean traditional music and instruments.
She received her Bachelor of Arts degree at the New England Conservatory studying with James Buswell, Masters in Music from Rice University Shepherd School of Music studying with Cho-liang Lin as a Dorthy Starling Scholar. She is currently working on her Doctorate of Music Degree at the University of Michigan with David Halen.
---
Christine Harada Li
Co-Education Director
Christine graduated summa cum laude from University of Michigan School of Music and completed her Master of Music degree at the Hochschule für Musik in Hannover, Germany. Her principal teachers here were Yehonatan Berick, Elisabeth Kufferath, Anne Röhrig (baroque), and Arthur Greene (piano). Currently Christine is pursuing a Specialist in Music degree studying with David Halen. Christine has performed in the U.S.A., Canada, Japan, Germany, Italy, Austria, Spain, and Israel, and is a member of the Koinonia Trio.
Christine is Co-Artistic Director and founding member of the Anchorage Chamber Music Festival in Alaska and Vice President of the Anchorage Fine Arts Society, a non-profit organization that advocates learning, teaching, and preserving the arts. She is also Co-Education Director at Innsbrook Institute.
---
Nathaniel Pierce
Co-Education Director
Nathaniel Pierce, cellist and tenor, is a highly active and versatile musician. He is a founder and Co-Artistic Director of the Anchorage Chamber Music festival, and Co-Education Director at the Innsbrook Institute. Mr. Pierce is a founding member of the Koinonia Piano Trio which has toured in Europe and in the States. He performed as a soloist at the Kennedy Center in Washington D.C. and has also been a featured soloist with the Toledo, Dexter, Dearborn, Albany, Ann Arbor and Birmingham-Bloomfield Symphonies, as well as the University of Michigan and Indiana University symphonies.